Thermal Transfer Labels
RIBBON REQUIRED TO PRINT
What are Thermal Transfer Labels made of?
Thermal transfer labels are mostly converted with coated materials designed to print with thermal transfer printers using thermal transfer ribbons. The three main components are face, adhesive, and liner. The most common types of face stocks are paper, polypropylene, or polyester, backed with acrylic, rubber-based, hybrid, or other forms of pressure-sensitive adhesive.
How long do Thermal Transfer Labels last?
Most label manufacturers suggest a shelf life of one year when stored in the recommended environment. Some specialized materials provide longer life. However, once the label is being printed and used, its shelf life depends on the application and the elements it may get exposed to. Our label specialists are here to answer the concerns you may have.
Able Label stocks a wide range of Thermal Transfer labels compatible with most desktop printer brands and models including:
Zebra® (ZD420t, ZD500, ZD620t, GK420t, GX420t, GX430t, and TLP2844)
Honeywell Datamax® / Honeywell Datamax-O'Neil®
Intermec®
Sato®
What Core Size Do I Need for My Desktop Printer?
Thermal Transfer Labels are stocked on default-sized rolls of 6" or 8" O.D. x 3" core but
can be easily converted for desktop printers
. To convert rolls:
After selecting your product, choose the option to convert the roll from the default size to 4" O.D. x 1" Core.
When selecting the quantity, the number you enter will reflect how many 3" core rolls will be converted into 4" O.D. x 1" core rolls. For example, the order quantity of 2 rolls on a 3" core equates to 8 rolls of 4" O.D. x 1" core or a quantity of two 4-Roll Packs.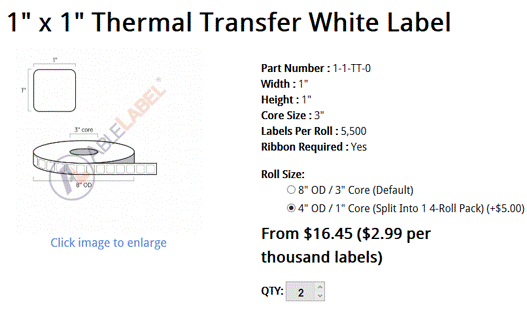 To find the specification of labels or ribbons for your Zebra or Honeywell Datamax-O'Neil industrial or desktop printers, see the following:
For printers of other make and models,
Contact Us
so one of our Label Specialists can happily assist you or
Request A Quote
for large orders to receive discount pricing.
Thermal Transfer Label Features
Able Label's Thermal Transfer Labels are perfect for creating your next detailed Thermal Transfer Printing Project and include:
Premium Quality Materials: Paper, Polypropylene (BOPP), Polyester, Vinyl and Polyimide
White, Color Coated, White with Color Borders
Choose from Permanent, High-Tack, Removable or Ultra-Removable Adhesive
Made in the USA
NOTE: Ribbon Required
For custom sizes and colors,
Contact Able Label
.
Looking for
Direct Thermal Labels? Click here
.
See our wide selection of Thermal Transfer Labels: